Global carbide cutting tools market – What lies ahead?
2020-03-19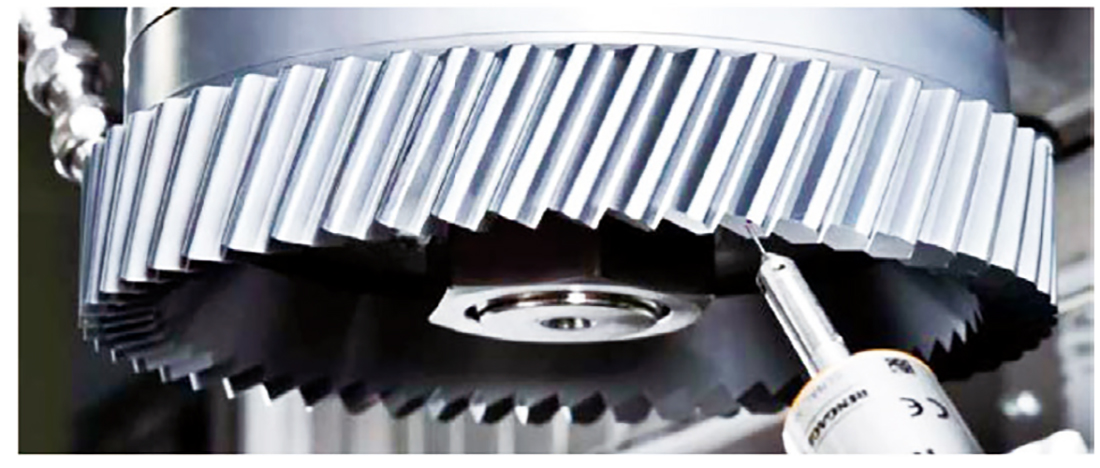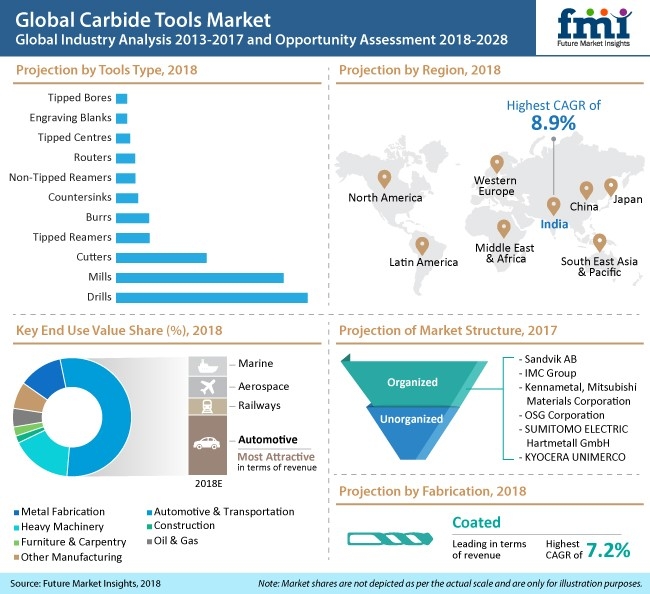 Carbide-tipped cutting tools, more popularly, carbide cutting tools, have been in use for a plethora of materials on CNC vertical machine, CNC lathes, turret lathes, vertical turret lathes and engine lathes. While excellent wear resistance of carbide tools manifests their enduring operational life, it also positions them superior to other counterparts when it comes to surviving longer production runs. Research has proven time and again that carbide tools are highly efficient in comparison with other solid cutting tools and high speed steel (HSS) tools.

Furthermore, the competitive price point of carbide cutting tools ensures they remain a preferred, cost-effective choice over others. Although the tips of carbide tools are manufactured of high-quality expensive carbide, the rest of the make of these tools, i.e. shank and body are generally made from high-quality yet cost-competitive hardened tool steel. With an excellent capability of improving the overall surface finish, carbide tipped tools have always been cited as compatible to high machining temperatures, thereby slashing down the overall machining cycle time.

How Does the Future Look Like?

Towards the end of 2019, it is highly likely that the global sales of carbide cutting tools will account for the revenues exceeding US$ 5 billion, and in the next 10 years, surpassing US$ 10 billion. While a recent research foresees strong annual growth outlook for the revenues of global carbide tools market, a 6.4 percent increase has been envisaged this year, over 2018.

Drills and end mills are emerging highly lucrative in the carbide tools market. However, carbide drills will continue to hold an edge over carbide end mills. While carbide drills continue to gain ground in automotive applications – prominently related to engines, the carbide end mills will particularly adoption for applications in fabrication. Significantly billowing consumption of carbide burs are key boosters to their high applicability in thermal deburring applications, whereas tipped reamers will also remain a significantly preferred type of carbide tools in the global market.

A majority of the opportunities for carbide tools manufacturers lie in CNC vertical machines or CNC machines. Increasing preference of end users for machine-based configuration of carbide cutting tools is more likely to suppress the applicability of tools with hand-based configuration, as the former supports convenient operation and handling demands, promotes high-speed compatibility and offers extraordinary proficiency.

Custom Tools Manufacturing Will Gain the Limelight

Emphasizing development of customized carbide tools at competitive prices will remain one of the key strategies among participants in the global cutting tools landscape. Competitive Carbide Inc. (CCI in Ohio), recently acquired by the U.S. manufacturer and distributor of precision cutting tools, Arch Global Precision, is globally recognized for its range of customized milling tools, including endmills and reamers, solid-carbide mills, custom inserts and indexable precision tools. Arch will now have an extended portfolio of offerings, significantly supplementing its PCD tooling capabilities. CCI has also taken over a new state-of-the-art facility for custom tools manufacturing.

Additive Technology Spreading its Roots in the Cutting Tools Space

Increasing incorporation of additive printing technology in manufacturing and measurement of precision carbide tools will ensure seamless flow of work right from manufacturing stages, through the value chain. The U.S. manufacturing giant specializing in engineering high-performance cutting tools,
IMCO Carbide Tool, recently announced the replacement of an old surface measurement system that measures edges of drills, mills, inserts and several other round cutting tools irrespective of their material, type, size and surface finish. The company is now using Alicona Corp's EdgeMaster optical 3D measuring system.

The new 3D system manufactured by the Illinois-based company has reportedly facilitated the prototype development and IMCO Carbide Tools is now relying on it for a more versatile, multiple-attributed measurement than ever. IMCO's milling cutters with maximum 13 flutes are known to have above-average surface finish despite dealing with the most difficult-to-machine surface materials. The R&D center of IMCO is witnessing an effective prototype cutting tools measurement record by the EdgeMaster.

More than the efficient 3D measurement of carbide cutting tools, the company values the user-friendly controls on the EdgeMaster. The measurements are leading to the robust growth in productivity of the company and an excellent measurement data for future reference.

Small-diameter Carbide Endmills Will Reflect Excellent Sales Potential

Ultraprecision processing is gaining traction across industries, as industries take efforts to maintain the improved product quality, safety and stability. Moreover, the paradigm shifts to light weight and more compact products and components is translating into growing demand for carbide cutting tools that have a smaller diameter. Micro precision machining that has emerged imperative in next-generation technological platforms such as Internet of Things (IoT), connected technologies, wearables and dies for wearables' sensors, are highly likely to boost requirement of small-diameter endmills, particularly for cutting of dies, majorly in aerospace and medical applications.

Focus on Top-of-the-line Performance, at an Economical Price Point Will Intensify

Sandvik AB, the first company manufacturing rock tools with cemented carbide, announced the launch of a new group, PowerCarbide – highlighting its rock tool capabilities with cemented carbide. This new range is being claimed to be stronger, tougher, harder and a little more wear resistant. The overall drilling performance is expected to significantly high than ever, in addition to the substantially cost competitive pricing.

Sweden-based Sandvik has been a leader in the advanced cemented carbide tools space and will maintain the strategic focus on R&D. For the company, close customer collaboration and consistent increase in the investments have been the equally profitable strategies, so far. More importantly, the company has been investing efforts in leading towards a more sustainable future of the industry through the novel carbide recycling system.

Retooling, re-sharpening and reconditioning of existing carbide cutting tools seems an attractive area of investment, luring OEMs, which is anticipated to add to the cost-competitive, sustainable efforts of the carbide tools market as a whole.

Will the Onset of EVs and Other Automotive Technologies Impact Adoption of Carbide Tools?

The global vehicle parc is thriving steadily, of which the Asia-Oceania-Middle East cluster currently accounts for over 35 percent share. While the share of the Americas, i.e. just-under a third of the total automotive parc, also reflects significant opportunities for carbide tools manufacturers, that of the former will remain the most prominent factor boosting carbide tools demand within the concerned regions.

Besides automotive and transportation, carbide tool sales are majorly favored by the growth of heavy engineering industry, industrial production and fabrication. Driven prominently by the automotive and aerospace industries, the revenue contribution of automotive and transportation in the carbide cutting tools market will be more than 55 percent in the next few years.

With the most-anticipated entry of electric vehicles (EVs), hybrid electric vehicles (HEVs) and autonomous and self-driving vehicles to the mainstream in the near future, the subsequent reduction in the number of automotive components will possibly limit the demand for precision cutting tools. The exact ramifications of complete vehicle electrification on the growth of carbide tools market still remain to be unexplored. On the other side, heavy machinery and metal fabrication will also account for a combined share of more than a fourth of the global demand for carbide tools.