SERVE THE COMMUNITY
Determination. Metamorphosis

Brand Introduction
WOTEK is a manufacturer of carbide end mills also researching and developing company in the most beautiful island in Asia "Formosa"– Taiwan.
WOTEK is dedicating "Design innovation、Quality commitment、Express service、Trust and Consideration"
Professional Territory
The raw material of rod bar from Europe, an excellent material of carbide insists stability and excellent quality.
Adoption Hi Tech coating "Oerlikon-Balzer" from Switzerland And target different work materials and make different mix of the latest composite coating to solve.
The coating process is able to increases the hardness of carbide end mills, resist high temperature, anti abrasion and vibration also increase the durability of end mills.
The Germany 5&6 axis and newest style 8 axis grinding machines from Germany just likeWalter, Rollomatic……etc use newest 8 axis grinding machine manufacture quality precision cutters,the excellent machine with our newest technology set a new operation process also increase the life of end mills.
Furthermore increase the process efficiency will reduce the cost and decrease the time of changing end mills.
The precision 2D and 3D equipment measure introduced from Switzerland, Australia and Germany.
The measuring equipment maintains the flute tolerance, diameter tolerance, shank diameter tolerance; to be in the stander concentricity.
Diameter tolerance:
Dia.6 mm ↓ 0~-0.01mm
Dia.8~12 mm is 0~-0.02mm
Dia.14 mm ↑ is 0~-0.03mm
Shank Diameter tolerance:
Tolerance on shank:
Is -0.005~-0.008
Concentricity tolerance: ±0.005
Roundness tolerance of ball nose end mill is between +0.005~-0.003mm.
WOTEK production cutting tool, whether precision, durability, resistance to high temperature can be closely related to the protection of spindle CNC Either protects CNC milling machine as well.
Management Concepts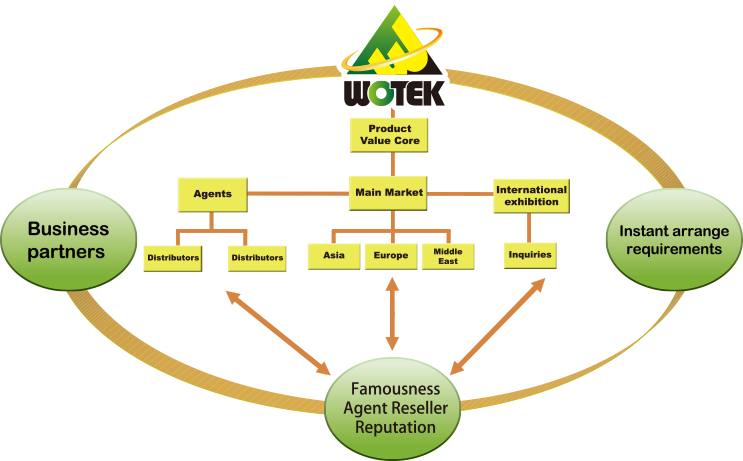 Taiwan has been well known as an expert of CNC high speed process machine,This field of specializes cutting tools is also marching toward the internationalization.
As times changing and growing, the mold, Aerospace industry and HI TECH connects to our daily life, which accelerating people request high tech and accuracy mold technology following the times change.
WOTEK is innovating adhere the stable unanimous quality of cutting tools; the special newest design of cutting tools can be satisfy the market of highly request.
WOTEK carbide end mills are dedicating planting our brand forward worldwide.
Service
Factory automation manufacturing, the multi series type and sizes of end mills can be satisfied highly demanded of the market.
The professional technical adviser will interact with customers and solve the problem.
WOTEK will accomplish and satisfy the perfection of cutting tools.
History
1988

Endmills-WOTEK Precision Tools Co., Ltd. has been established.

Imported Germany Walter - Rollomatic machines to produce various carbide end mills.

Specializing in exporting to Europe, the United States, Japan, the Middle East, and Asian markets.
2017

Imported Germany Walter Helicheck Plus machines to simulation various unique carbide end mills

Researching and developments of unique designed end mills.
2018

Shanghai office established.




Provide faster services to our customers in mainland China.
2019

Anca machines imported from Australia.

Fully customized for clients who needs wave and special end mills.
2020

D&B D-U-N-S registered certificate

Prospect